One-2-One Dog Training
Whereas training classes provide the ideal opportunity for training and socialising young dogs it is not always suitable for some. Sometimes dogs, especially older dogs or rescues and some herding breeds and terriers, find the hall situation counter-productive and being in close proximity to other dogs can actually do more harm than good. For some people coming along to the classes might not be possible at the time the class is held or they don't feel comfortable learning in unfamiliar surroundings. Other people have a specific problem they want to address. In these cases Waggy Tails can offer 1-2-1 instruction at your home or a venue of your choice.
An experienced and qualified instructor will work with you and your dog and build a training programme to suit your individual needs and aims. The training methods used will always be positive and kind. Prices are typically between £20-£30 per hour, although this may vary depending upon circumstances. Click here to enquire.
From 2008 we will also be holding workshops especially for dogs with problems. The fee for these classes is £100 to bring your dog or £20 to spectate. For details click here.
To give examples of the types of situations where we can help these are just a few case studies of people we've helped during 2006:-
Mindie
Mindie is a one year old german shepherd cross who had a serious fear of strangers. She would bark and snarl at people in the street and in a few cases had even chased people, causing embarrassment to her owner and stress to the poor people she had chased. After just one hour-long consultation Mindie's owner was given a detailed training plan - using no check-chains, shock collars etc., in fact no punishment at all, just appropriate timed rewards in a series of situations. Within a matter of weeks, and after a little dedication from her owner, Mindie was confidently walking along busy pavements and running happily in crowded parks with no signs of her previous problems.
Spike
When his family contacted us Spike was a very active six month old golden retriever. He had no particular problem, his owners just wanted to do some basic training so they could be confident in having control of him, but they were unable to make it to any local training classes. After five fortnightly hour long consultations in the family home and garden Spike's owners were really pleased with the success they were seeing with Spike's behaviour and subsequently their relationship with him. When he was just nine months old Spike's family decided to test him for the Kennel Club's good citizen scheme and he successfully passed both the bronze and silver levels.
Toggle
After having an enjoyable day at a local companion dog show, Toggle's owner decided she would like to have a go at training him for obedience competitions. In addition to joining Meon Valley Dog Training Club's competition class she also arranged a few 1-2-1 training sessions to help learn the basics of using her clicker to target train Toggle for competition work. After only a few month's training Toggle's results have been a real success story. He qualified for the southern area semi-final of the Kennel Club's GCS Special-Prebeginner Stakes at Discover Dogs, where he qualified for the final at Crufts in style by coming in first place!
We cover the following areas:-
Portsmouth

Waterlooville

Petersfield

Liss

Fareham

Havant

Hayling Island

Chichester

Midhurst
If are not within these areas look for an Association of Pet Dog Trainers approved instructor in your area.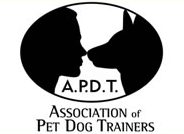 Perhaps you would like to find answers yourself without the help of a trainer? We recommend these books:-
Or check our Shop for more books and equipment .